BUS ADM 1095
-
Accelerating Intrapreneurial Innovation
Course Description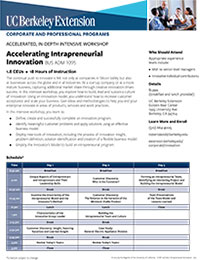 The continual push to innovate is felt not only at companies in Silicon Valley but also at businesses across the globe and in all industries. At the startup company or at a more mature business, capturing additional market share through creative innovation drives success. In this intensive workshop, you explore how to build, lead and sustain a culture of innovation. Using an innovation model, you will understand how to increase customer acceptance and scale your business. Gain ideas and methodologies to help you and your enterprise innovate in areas of products, services and work practices. Upon successful completion of this intensive workshop, you receive a certificate of participation.
Learner Outcomes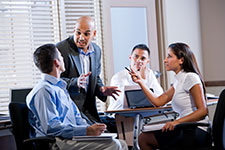 Define, create and successfully complete an innovation program.
Lead innovation efforts.
Boost innovation skills and prospects.
Build and sustain an innovative culture.
Who Should Attend
Appropriate experience levels include:
Mid- to senior-level managers and directors
Innovative individual contributors
Notes
Drop/refund and transfer requests for this Corporate and Professional Programs intensive workshop are subject to a nonrefundable $250 processing fee and must be made no later than three days prior to the course start date. Drop/refund requests that are a result of course cancellations are not subject to the processing fee.
Departmental contact: robertdavid@berkeley.edu | (510) 664-4005