Courtiers, Conspirators and Adventurers: the Elizabethan and Jacobean Age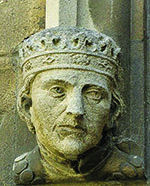 Occurring towards the end of the Age of Discovery, the reigns of Elizabeth I and James I in England witnessed dramatic, long-lasting changes in the nature of culture, society and religion, and the ways in which contemporaries lived in and understood the world. Men such as Sir Walter Raleigh and Sir Francis Drake emerged from England to spearhead voyages of exploration and discovery carried out with the backing of the monarch and members of the court and government. The opening up of Europe to the knowledge of the New World and the development of new technologies and skills that allowed long-distance exploration resulted in fundamental alterations to the conduct of trade, politics and diplomacy.
Focus on aspects of these changes, including the conduct of diplomacy and the involvement of entrepreneurial individuals such as Anthony Jenkinson and Thomas Smith in founding groups such as the Muscovy Company, the East India Company and the Virginia Company. Discuss the lives and careers of men such as Drake, Smith and Raleigh, who combined a career at court in England with his overseas ambitions as well as becoming one of the great writers of the period, a career that could only have been achieved at this extraordinary point in time.
With these drastic societal changes, however, came danger. Raleigh ended his life on the scaffold and many others found themselves at odds with their monarchs. The major religious upheavals of the religious reformations in England were by no means complete, and tensions and uncertainties continued. Two years into James' reign a major terrorist attack was mounted in London, when the Gunpowder Plotters attempted to blow up Parliament with the King, his Lords and Members of Parliament all inside. Look at details of the plot and the mysterious circumstances of its discovery as well as discussing what agitated the plotters so much that they took this desperate path.

Others were able to more successfully accommodate their beliefs and their behavior to the times in which they lived. Track the kinds of careers and lives that men such as Thomas Sackville, Earl of Dorset; Robert Cecil, Earl of Salisbury; and Sir Christopher Hatton (among others) were able to build out of royal service, the receipt of perquisites of office, and the clever manipulation of patronage and power.
Knole, a Jacobean treasure house in Kent
Coughton Court, the home of the Throckmorton family and rumored to be one of the major headquarters of the Gunpowder Plotters
Globe Theatre in London where we will see a performance of one of Shakespeare's plays, experiencing his work as it would have been seen by Elizabethan and Jacobean playgoers.
Jonathan Bate and Dora Thornton, eds., Shakespeare: Staging the World (British Museum Press, 2012)

Patrick Collinson, Elizabeth I (Oxford University Press, 2007)

Olga Dmitrieva and Natalya Abramova, eds., Britannia and Muscovy: English Silver at the Court of the Tsars (Yale University Press, 2006)

Olga Dmitrieva and Tessa Murdoch, eds., Treasures of the Royal Courts: Tudors, Stuarts and Russian Tsars (Victoria & Albert Museum, 2013)

Susan Doran and Norman Jones, eds., The Elizabethan World (Routledge, 2013) (Please note that this is a second edition in paperback. If planning to purchase this book, you should look for this and not the first, hardback edition, which is very expensive!)

Christopher Durston, James I (Routledge, 1993)

Mark Girouard, Elizabethan Architecture: Its Rise and Fall, 1540–1640 (Yale University Press, 2009)

Harry Kelsey, Sir Francis Drake: The Queen's Pirate (Yale University Press, 2000)

Neil MacGregor, Shakespeare's Restless World: A Portrait of an Era in Twenty Objects (Allen Lane, 2012)
(Note that there is a website by the same title that contains a number of audio clips from the radio series that produced this book)

Anna Reynolds, In Fine Style: The Art of Tudor and Stuart Fashion (Royal Collection Trust, 2013)

Penry Williams and Mark Nicholls, Sir Walter Raleigh: In Life and Legend (Continuum, 2011)

Michael Wood, In Search of Shakespeare (BBC Books, 2007)
(There is also a TV series to accompany this book, which is available to buy on DVD or may be found on YouTube)
You are expected to write one paper of 1,500 to 2,000 words and to deliver one oral presentation.
Janet Dickinson, Ph.D., researches and writes on the political and cultural history of 16th- and early 17th-century England. She currently teaches for the Open University, the University of Reading and the University of Oxford. DIckinson is a committee member of the Society for Court Studies. Her publications include a number of book chapters on Elizabeth I and the nobility and gentry. Her first book, Court Politics and the Earl of Essex, 1589–1601 was published by Pickering and Chatto in 2011.