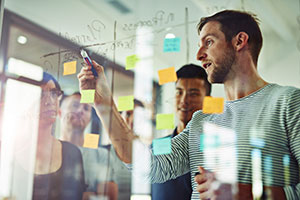 In this intensive workshop, participants focus on the unique challenges associated with startup accelerators, a relatively new branch of startup training, coaching and investing. They learn about the state of the art in the industry and after the course will have a much clearer picture of what value a startup accelerator can bring to their organization.
Course topics include accelerator curriculum and staffing, accelerator business models, additional services for startups and investors, the added value accelerators bring to startups and different industries, and the role that accelerators have in developing regional startup ecosystems.
Understand the resources needed to set up a startup accelerator, including curriculum elements
Know what skills are needed in a team to run a startup accelerator
Learn how to set up a support network around the accelerator to mentor startups with coaching, connections with academia, industry and investors
Gain insights into the additional different services accelerators can deliver to startups and investors
Describe the different business models of accelerators and their pros and cons
Who Should Attend
This workshop is intended for:
Accelerator staff and managers
Corporate innovation managers, business development and corporate venture capitalists
University entrepreneurship, science park, commercialization and TTO managers
Government managers and policy makers
Prerequisites:
Participants must show they work in relevant industries and are required to submit an application describing their motivation and formulate a personal challenge for the course.
Course Outline
Expand or collapse section
Day 1: "Accelerators Play a Central Role in the Startup Economy"
8 am:
Welcome and introductions (Frans Nauta)
9 am:
The Evolution of Early Stage Startups (Andrew Isaacs)
10:45 am:
Break
11 am:
Accelerators, Why Now? (Nauta)
Noon:
Lunch at the Faculty Club, followed by a campus tour
1:30 pm:
Accelerator Business Models (Nauta)
2:30 pm:
Project group formation, small-group discussions and review
4:15 pm:
Break
4:30 pm:
Launching an Accelerator Inside a University Research Lab (Ilan Gur)
5:30 pm:
Synthesis
6 pm:
Close for group work
Day 2: "Getting Off the Ground"
8 am:
Thoughts From Yesterday, Framing Today (Isaacs)
9 am:
Setting up a Cross-EU Clean-Tech Accelerator (Nauta)
10:30 am:
Break
10:45 am:
Setting Up a Corporate Accelerator (Paul Campbell)
1 pm:
Lunch at Illumina Accelerator
1:30 pm:
Site visits to Illumina Accelerator and Powerhouse Solar Accelerator
5 pm:
Outsourcing a Corporate Accelerator (Don Loeb)
6 pm:
Group dinner and visit to startup event
Day 3: "Accelerator Essentials"
8 am:
Thoughts From Yesterday, Framing Today (Nauta)
9 am:
Business Skills in Finance, Market Analysis, Sales and Marketing (Hans Westerhof)
10:45 am:
Setting Up the iCorps Accelerator Inside the NSF (Errol Arkilic)
Noon:
Lunch and group work
1:30 pm:
The Application Process and Selecting the Right Startups (Nauta)
2:30 pm:
Break
2:45 pm:
Getting Results: Incorporation, Contracts, Legal, Managing Teams and IP (speaker TBD)
4:15 pm:
Break
4:30 pm:
Startup Perspectives
5:30 pm:
Synthesis
Day 4: "A Startup Toolkit"
8 am:
Thoughts From Yesterday, Framing Today (Isaacs)
9 am:
Leadership and Operational Excellence (Isaacs)
10:30 am:
Break
10:45 am:
Running a Theme-Based Accelerator Program in FinTech (Nauta)
Noon:
Lunch at StartX Accelerator Program, Stanford University
1 pm:
Design Thinking in Startups (Speaker TBD)
3:30 pm:
Cisco site visit; How to Deal With Startups in a Corporate Environment (Tom Yoritaka)
6 pm:
Computer History Museum Tour and Dinner
6:30 pm:
Lessons Learned (Isaacs)
Day 5: "Making Funding Work"
8 am:
Thoughts From Yesterday, Framing Today (Nauta)
9 am:
Connecting Business Angels and Venture Capital to Accelerators (Pedram Mokrian)
11:30 am:
Presentation preparation and lunch
1:30 pm:
Group Presentations I
2:30 pm:
Break
2:45 pm:
Group Presentations II
3:45 am:
Break
4 pm:
Synthesis, Going Forward
5:30 pm:
Closing dinner and graduation
*Schedule subject to change.
Instructors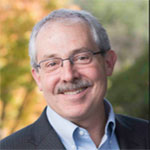 Andrew Isaacs is a successful scientist, business executive, entrepreneur and educator. He is passionate about mentoring the next generation of technology business leaders and has a strong track record of helping young entrepreneurs launch their careers. Isaacs has worked at the crossroads of advanced technology and business innovation for 25 years. Isaacs has been on the UC Berkeley faculty for 16 years.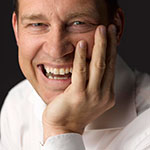 Frans J. Nauta is an innovator and entrepreneur and a visiting scholar at the UC Berkeley Haas School of Business. He is the founder of ClimateLaunchpad.org, the world's largest early stage accelerator program for clean-tech startups. He also kickstarted the Climate-KIC Accelerator that runs across the EU and has trained more than 500 startups to date. His career includes stints as professor of innovation at HAN University, director of the Dutch Prime Minister's Innovation Unit and the founder of think tank Knowledgeland.
Guest Lecturers

Ilan Gur, CEO Cyclotron Road, Lawrence Berkeley National Laboratory
Paul Campbell, VP Innovation, Head of Silicon Valley Innovation Center, Schneider Electric

Don Loeb, VP Corporate Development, Techstars

Hans Westerhof, Accelerator Manager Netherlands, Climate KIC

Errol Arkilic, CEO at M34 Capital

Tom Yoritaka, Cisco Global Managing Director for EIR Program

Pedram Mokrian, UC Berkeley Haas School of Business Visiting Instructor