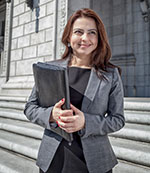 37.5 Minimum Continuing Legal Education (MCLE) hours with the State Bar of California and 40 continuing education hours for HR managers through the Human Resource Certification Institute (HRCI).
This course satisfies the training requirements for most court and agency panels.
This course can fulfill continuing education requirements for California state re-licensure. Standards for licensure, re-licensure, and certification in other states may vary, and enrollment does not guarantee that students will obtain a license or certification. Please review additional information before enrolling.
Do you want to successfully resolve business disputes with confidence? With courts clogged and lawsuits and business conflicts on the rise, mediation skills can become an essential part of your skill set. In this intensive 40-hour training, you gain the ability and confidence to resolve almost any dispute as a mediator, negotiator or representative. Through lecture, discussion, dispute simulations and video, you learn the skills and strategies of a successful mediator. A complete set of model forms for your practice or program is also included.
Learner Outcomes
Discover several different models of mediation
Explore which overall strategies and specific techniques are most effective for which types of disputes
Become familiar with the use of prepared written materials to structure mediated negotiations
Discuss case studies of several real mediation cases
Practice making on-the-spot choices in mediation-simulation practice exercises
Observe and evaluate effective mediation techniques
Learn the ethical principles, legal protections and requirements that define and govern the field
Who Should Attend
This course is intended for professionals who deal with conflict regularly, including attorneys, judges, psychologists, and marriage and family mediators/counselors. The course is also appropriate for business managers, human resource managers and government agency personnel who want to improve their skills in dealing with conflict.