Gain the coaching and mentoring skills necessary to increase your team's productivity and motivation. In this one-day intensive workshop, you learn what it means to be an effective coach and mentor by employing proven methods that outstanding leaders use to advance their careers and those they manage.
Upon successful completion of this intensive workshop, you receive a certificate of participation.
Course Outline
Expand or collapse section
Learner Outcomes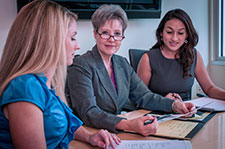 Through interactive discussions, experiential exercises and self-assessments, you learn to:
Effectively coach and mentor your staff or team.
Identify the common mistakes and best practices to be an effective coach and mentor.
Engage in constructive interactions with colleagues.
Increase your current coaching and mentoring skill level.
Develop action items to put into practice at your workplace.
Who Should Attend
Appropriate experience levels include:
HR leaders
Learning and organizational development leaders
Mid- to senior-level managers and directors
Schedule*
| Time | Session |
| --- | --- |
| 9 am | Deliberate Practice: The Origins of Outstanding Performance |
| 10:30 am | Break |
| 10:45 am | The Benefits of Coaching and Mentoring |
| 12 pm | Lunch |
| 1 pm | Becoming a Coaching Manager |
| 2:15 pm | Break |
| 2:30 pm | Your Coaching Strengths and Opportunities |
| 3:45 pm | Break |
| 4 pm | Action Plan to Becoming a Coaching Manager |
| 5 pm | Close |
*Schedule subject to change.
Instructor

Frank C. Schultz, Ph.D., is a faculty member in UC Berkeley Haas School of Business's Management of Organizations Program and in the Economic Analysis & Policy Group, where he specializes in the areas of leadership and strategic management. Schultz's research focuses on deliberate practice–how individuals and organizations gain competitive advantage through the development of world-class experts–and he is writing a book on the subject. Schultz has previous business experience working with IBM, Chevron and Pillsbury.