As an executive, leader or manager, you need these skill sets to drive transformation at your organization:
Knowledge to make faster and better data-driven decisions
Ability to lead with confidence in a fast-changing digital world
Strategic use of data and technology applications
Build your leadership toolkit with hands-on learning with real data sets. By knowing the right questions to ask, you'll be able to design a lean and scalable data process that produces fast and accurate analytics. In your daily work, learn how to quickly assess raw data to uncover business insights, connect financial and operational data to identify opportunities, or employ various metrics to understand what drives your activity. Level-up your learning by applying Machine Learning (ML) algorithms to see the signals in the noise.
Your Instructor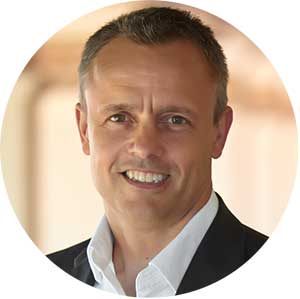 Gauthier Vasseur, Executive Director at Fisher Center for Business Analytics, President of the Alliance for Inclusive Artificial Intelligence (AIAI) at UC Berkeley Haas School of Business
Gauthier Vasseur is a data analytics and digital transformation expert. His executive track record spans from large enterprises (Google, Oracle, Hyperion) to bootstrapped, Series A and pre-IPO companies. Gauthier has worked in finance, operations and marketing, building teams, analytics and scalable processes to hasten growth and improve transparency. He has brought his multifaceted experience and emphasis on data analytics into higher education.
Gauthier has more than six years of experience teaching and training teams to drive efficient and data-driven processes, make the best of technology and become key actors of digital transformation in their own organizations.
At the Fisher Center for Business Analytics, Gauthier spearheads efforts to connect Berkeley Haas faculty with business leaders to collaborate on the application of data science and analytics to business strategy. To engage with confidence, business professionals need to understand how AI can work for them.
Course Outline
Expand or collapse section
Course Objectives
Capture raw data and transform it into a sustainable asset for analysis.
Stretch analytics with advanced visualization and AI techniques.
Identify which solutions can boost analytics performance.
Lead with confidence in a fast-changing digital world.

What You'll Learn
Properly framing the bearings of your analytics
Fluid and fair data
Data supply chain
Efficient data management
AI and Machine Learning for your business needs
Advanced visualizations
Lean analytics processes
Keys to a data culture at scale

Intended Audience
The workshop is designed for executives, team leaders, heads of departments and managers who are eager to build a solid understanding of data analytics and increase their performance and their teams. Professionals with a working knowledge of spreadsheets (formulae, charts and pivot tables), math and statistics who seek to learn about data analytics are also suited for this workshop.
Sections
Summer enrollment opens on March 21!