Internships
Gain Work Experience. Build Connections. Expand Your Network.
Put your newly learned skills and knowledge to practical use with an engaging three-month internship at a Bay Area or Silicon Valley company! You'll see firsthand how a U.S. business runs, which will give you a competitive edge as you enter the workforce or apply to graduate school.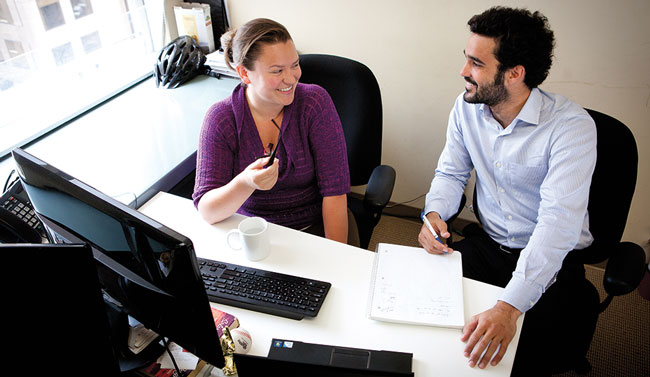 As a student in the Berkeley Haas Global Access Program, you'll work closely with an internship coordinator who will guide you through each step of the internship. You'll attend an internship orientation, participate in a company fair to meet prospective mentors, create a résumé and develop your interviewing skills. You'll then put those new skills to use in a real interview for the internship. At your internship, a site supervisor will monitor your performance and attendance.
Put Your Skills to Work at a Bay Area Company
Imagine yourself creating a marketing or overall business plan, or delivering a financial presentation to a company. Or strategizing on how to increase traffic to a company's website or social media channels. Or defining best practices on how to establish international contacts to build a client base.
Secure an internship within a number of diverse industries, such as:
Advertising
Corporate finance and banking
Entertainment
Health care
Hospitality
International trade
Public relations
Real estate development and finance
Social media marketing
Startup development and entrepreneurship
Dates
May 21–August 10, 2018 (3 months)
Internship Experience Includes
Résumé assistance and interview preparation
Placement at a Bay Area company
Internship coaching from Berkeley Haas
U.S. Work Authorization: Optional Practical Training
If you participate in two semesters of BHGAP and an internship, you may be eligible to apply for paid temporary work authorization in the United States, also known as Optional Practical Training (OPT). You can begin either in the fall or spring as described by the two options below.
Fall Semester Start: Complete your two semesters of BHGAP (fall and spring), followed by your summer internship, then apply for 12 months of OPT.
Spring Semester Start: Complete your spring semester of BHGAP, then a summer internship, followed by your fall semester of BHGAP, then apply for 12 months of OPT.

{{ term.term }} Final Deadline: {{ ::term.deadline.final | date:'MMMM d, yyyy' }}

{{ term.term }} Scholarship Deadline: {{ term.scholarship | date:'MMMM d, yyyy' }}