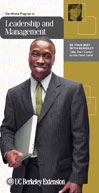 Become a more effective leader, manager or supervisor through practical, skill-based learning in the Certificate Program in Leadership and Management. Grounded in the practical aspects of day-to-day management, the curriculum develops knowledge and skills useful to a position of influence, even if you are not in a formal management role. Courses in how to build managerial excellence equip you to better understand the latest principles, strategic concepts, philosophies and advanced applications in management and leadership. The curriculum is overseen by an advisory board of business and education leaders and approved by the University of California, Berkeley, Haas School of Business, ensuring your education is relevant and up to date. The certificate prepares you to take on higher-level job responsibilities, improves your current managerial performance, helps you develop a big-picture view of management and enables you to communicate more effectively.
Join our email list to stay informed about this certificate, or attend a free in-person information session.
Courses
Course availability is subject to change. Courses offered in both online and classroom environments are interchangeable; if both delivery options are available, you may choose either option.
To enroll, click on a course title above and choose a section. You may enroll in individual courses without registering for a certificate or program.
Prerequisites for Admission
There are no prerequisites for the Certificate Program in Leadership and Management, but a bachelor's degree is recommended.
Curriculum Requirements
The curriculum comprises 5 required courses and 4 units of electives (usually 2 courses) for a total of 13 semester units (195 hours of instruction). Candidates must pay a nonrefundable certificate registration fee.
You must take all courses for a letter grade. To receive the certificate, you must maintain an overall minimum 2.5 grade point average, with a grade of C or better in each course. A Certificate with Distinction will be awarded to those who complete the certificate with a GPA of 3.7 or higher. All coursework must be completed within five years of registering for the certificate. By taking two courses per term, you can complete the coursework within four semesters (one-and-a-half years).
How to Register
By registering, you declare your intention to complete the curriculum. To register online for the Certificate Program in Leadership and Management, complete these two steps:
Submit the online registration, and complete your student account profile if you are a new student.
Pay the nonrefundable registration fee through your shopping cart.
You may also send the mail-in registration form with your credit card information or personal check.
We recommend that you register for the Certificate Program in Leadership and Management before you begin your second course in the curriculum.
Estimated Cost
Each course is priced individually, and you pay the course fee at the time of enrollment. The certificate has an estimated total cost of $5,425 (not including course materials or registration fee). Course fees are subject to change.
Certificate and Award Request
Once you have completed the certificate coursework, notify UC Berkeley Extension that you have completed the curriculum and request your certificate. Send an email to extension-business@berkeley.edu or call (510) 642-4231. After your records have been reviewed, verified, and approved, your certificate will be sent to you in the mail. The review of your records is usually completed within six to eight weeks after you request the certificate.
Advisory Board
Chris Arnold
Senior Vice President, Wholesale Customer Analysis
Wells Fargo
Former Instructor
UC Berkeley Extension
Heather Bowker, M.S.
Executive Coach
Talent Management Consultant
Terri Lynn Cardona, M.S.
Vice President, Human Resources
Prometheus Real Estate Group
Mary DeShaw
Interim Director, Retirement Operations
University of California Office of the President
Kathy Duarte, M.B.A
Senior Director, Compensation, Benefits, HRIS
Polycom
James Fitzgibbon, D.P.T., O.C.S.
Regional School Administrator
Kaiser Permanente School of Allied Health Sciences
Terry Hird, M.B.A.
Business Consultant
Instructor
UC Berkeley Extension
Robert J. Koran, M.B.A.
Adjunct Professor of Management, School of Business and Professional Studies
University of San Francisco
Jennifer Selby Long, M.A.
Management Consultant
Principal, Founder
Selby Group
Tim McMahon, D.B.A.
Professor of Management, C. T. Bauer College of Business
University of Houston
Wai Poc, M.B.A.
Principal, Human Resources for RandD
Genentech
Holly Schroth, Ph.D.
Senior Lecturer
Haas School of Business
UC Berkeley
Glenn Tobe, M.A.
Management Consultant
The Tobe-Schnur Group
Instructor
UC Berkeley Extension
Wai-Kin Wong, M.S.E.E.
Engineer Director, Network Management Technology Group
Cisco Systems