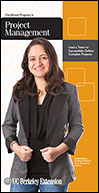 Demand for project management expertise in organizations continues to grow, and the UC Berkeley Extension Certificate Program in Project Management is a great way to build the skills to keep your projects on task, on time and on budget. In this highly interactive curriculum—delivered online or in class—you learn how to apply project management practices to achieve success in a wide variety of fields, including high tech, marketing, financial services, information technology, international trade, life science industries, government, construction and more. You learn from highly qualified instructors with extensive project management experience and work in teams with classmates to develop hands-on problem-solving techniques. On completion, you earn a highly regarded credential approved by the University of California, Berkeley, Haas School of Business and an advisory board of business and education leaders. Moreover, all of our project management courses apply toward professional development units (PDUs) for the Project Management Institute (PMI).
Join our email list to stay informed about this certificate, or attend a free in-person information session.
Courses
Required Courses

Note: If you registered for the certificate before Sept. 1, 2013, you must complete only the three required courses and the three primary electives to receive the certificate. For previously registered students, all six of these courses are required. All new students must start with Project Management BUS ADM X470. Other courses in the sequence may be taken in any order, but we strongly recommend that Project Execution and Control BUS ADM X471.9 be taken last.

| Course Number | Course Title | Units / CEUs | Delivery Options | Status |
| --- | --- | --- | --- | --- |
| BUS ADM X470 | Project Management | 2 | Online, Classroom | Available |
| BUS ADM X469.2 | Project Leadership and Building High-Performing Teams | 2 | Online, Classroom | Available |
| BUS ADM X471.9 | Project Execution and Control | 2 | Online, Classroom | Available |
Primary Electives

A minimum of two courses in primary electives and 4 additional semester units in electives must be taken for a total of 8 units. The third primary elective can also be used to fulfill 2 units of the additional electives requirement.

| Course Number | Course Title | Units / CEUs | Delivery Options | Status |
| --- | --- | --- | --- | --- |
| BUS ADM X470.9 | Project Scope and Quality Management | 2 | Online, Classroom | Available |
| BUS ADM X440.4 | Project Schedule and Risk Management | 2 | Online, Classroom | Available |
| BUS ADM X474.3 | Project Cost and Procurement Management | 2 | Online, Classroom | Available |
Course availability is subject to change. Courses offered in both online and classroom environments are interchangeable; if both delivery options are available, you may choose either option.
To enroll, click on a course title above and choose a section. You may enroll in individual courses without registering for a certificate or program.
Prerequisites for Admission
There are no prerequisites for the Certificate Program in Project Management, but a bachelor's degree is recommended. There are no admission requirements for the certificate.
Curriculum Requirements
The curriculum comprises 3 required courses and 8 additional semester units of electives for a total of 14 semester units (210 hours of instruction). Candidates must pay a nonrefundable certificate registration fee. We recommend that certificate students register for the certificate when they decide to commit to completing it, usually around the time of the second course in the curriculum.
Classes in the certificate start continuously. You may begin the program at any time and progress through the curriculum in the format and at a pace that fits your goals. Choose your study option:
Online, accelerated: eight weeks of study
Online, regular pace: 12 weeks of study
Classroom, daytime (weekend) format: four or five weeks of study
Classroom, evening (weeknight) format: generally 10 weeks of study
All certificate courses, including those online, have fixed start and end dates, with assignments and project work assigned throughout the course. Courses are scheduled so that you can complete all certificate requirements in about one year by taking the shortest duration sections sequentially. Most students complete their certificate coursework in one to two years. All coursework must be completed within five years of commencing the certificate.
You must take all courses for a letter grade. To receive the certificate, you must maintain an overall minimum 2.5 grade point average (GPA), with a grade of C or better in each course. A Certificate With Distinction will be awarded to those who complete the certificate with a GPA of 3.7 or higher.
How to Register
By registering, you declare your intention to complete the curriculum (domestic students only). To register online for the Certificate Program in Project Management, complete these two steps:
Submit the online registration, and complete your student account profile if you are a new student.
Pay the nonrefundable registration fee through your shopping cart.
You may also send the mail-in registration form with your credit card information or personal check.
You should register for the certificate after you complete the first course in the curriculum.
If you are an international student, you must apply to Evening Certificate Programs. Learn more.
Estimated Cost
Each course is priced individually, and you pay the course fee at the time of enrollment. The certificate has an estimated cost of $5,600 (not including course materials or registration fee). Course fees are subject to change.
Certificate and Award Request
Once you have completed the certificate coursework, notify UC Berkeley Extension in writing that you have completed the curriculum and request your certificate. Send an email to extension-business@berkeley.edu or call (510) 642-4231. After your records have been reviewed, verified, and approved, your certificate will be sent to you in the mail. The review of your records is usually completed within six to eight weeks after you request the certificate.
Special Instructions for International Students
This certificate is approved for international students. International students must be officially accepted into UC Berkeley Extension's Evening Certificate Programs before enrolling in any courses associated with this certificate. Apply now.
Additional Information
Alliances for Enhanced Learning
Apply project management course credit from UC Berkeley Extension to an M.S. in project management
Credits for UC Berkeley Extension project management courses may apply to the University of Wisconsin-Platteville's online Master of Science in Project Management. Details about admission and the credit transfer policy at the University of Wisconsin-Platteville
UC Berkeley Extension is a founding advisory member of the International Project Management Education Union (IPMEU), founded in 2004 by the Institute of Project Management Research, School of Economics, Peking University. Eight other universities with strong project management programs, together with China Education Television (CETV), were invited to be founding members of IPMEU. Peking University played an active role in introducing the U.S. project management system to China, successfully initiating the first Chinese M.Sc. program in project management.