The cornerstone of any successful business is a workforce of well-trained, efficient employees. Busy professionals benefit from in-depth training to hone their current skills and become fluent in emerging trends and technologies, without a substantial time investment. UC Berkeley Extension's Corporate and Professional Programs are designed to create engaged, productive employees in a format that meets your company's needs, time frame and budget—giving you a competitive industry advantage. Join our email list to stay informed about Corporate and Professional Programs.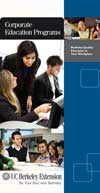 Industry-specific, Berkeley-quality courses ensure that your staff receives targeted knowledge with real-world applications. Our instructors, who are experienced practitioners in their industries, understand the practical issues and challenges your employees face.
Accelerated, In-Depth Intensive Workshops
Our customized intensives aim to boost employee productivity and retention in the following areas:
Faculty/practitioner-led intensive institute
Learn from esteemed UC Berkeley faculty and senior practitioners.
month-long online accelerators
Gain new skills through interactive discussions, readings, videos and written assignments.
Design Your Own Program
We also offer customized programs designed to your specifications and delivered where and when you choose. Our training consultants translate your needs into focused, effective courses and programs delivered by our expert instructors. Your employees will learn new solutions and best practices that they can use on the job right away. Learn more.