Pursue your interests with courses on history, literature, philosophy, culture, languages, cuisine and personal development. Explore the historical context of classics. Gain a greater appreciation of the values of diverse religions. Develop your communication skills. Or refine your palate with a program on fine wines. You can also study a language to enrich your social, cultural and professional experiences. Whether you want to brush up on your conversational French or learn Mandarin for your next business trip to China, UC Berkeley Extension has the right course for you. Courses are held in Berkeley, San Francisco, Belmont and online.
Find courses in the following areas:
Professional certificates and specialized programs of study
Professional certificates are the highest level of academic achievement from UC Berkeley Extension. Specialized programs of study provide focused subject concentrations to develop skills within specific disciplines. Learn more.
Professional certificates
Specialized programs of study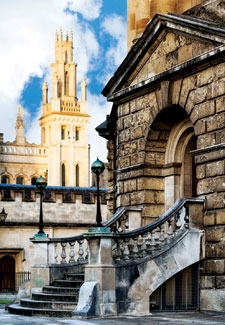 Experience the tradition and intellectual challenge of studying and living at University of Oxford in this unique three-week summer seminar program. Join other intellectually curious adults for a scholarly adventure within the hallowed walls of one of the world's oldest universities.
Live and study at Merton College, one of the oldest colleges at Oxford. Immerse yourself in the daily rhythms of life at Oxford: morning seminars with your tutor, discussions over tea with classmates, afternoon strolls through world-renowned museums, and evenings spent taking in the theater at Oxford Playhouse or having a pint at the Turf Tavern.
Which Language Level Is Best for You?
Select a course based on your knowledge of the language and the prerequisites listed for each course. After the first class session, if you have placed yourself incorrectly, you may transfer to an appropriate level, space permitting. Note: Enrollment in all language courses is limited, and early enrollment is advised.

Level I
For students who have little or no background in the language.
Level II
For students who can communicate with relative ease in a limited range of everyday situations (for example, greetings, introductions, getting around, shopping, ordering food and expressing simple feelings and wants).

Level III
For students who can converse on more complex subjects in present, past and future tenses. Students in Level III courses typically finish a first-year, college-level textbook by the end of the course.

Level IV
For students who have been introduced to major grammatical forms and who want to build fluency. Students in Level IV courses typically review grammar and read short stories and articles from magazines and newspapers.

Level V and higher
For students who have good speaking and reading knowledge of the language and can engage in spontaneous conversations and discussions.
Which ESL Course Is Best for You?
Intermediate courses are for nonnative speakers who:
can speak or write in sentences or short paragraphs about familiar topics but have difficulty expressing themselves in longer paragraphs,
have studied grammar but have trouble using correct grammar within speaking or writing contexts,
sometimes have trouble finding the correct word or phrase to express their meaning.
High-intermediate to low-advanced courses are for nonnative speakers who:
can speak and write with some ease in full paragraphs about a wide range of subjects, with a high degree of grammatical accuracy;
need to improve their sensitivity to formal and informal language and the appropriateness of expressions in certain situations;
can express their meaning but need to improve use of vocabulary and idioms.
Advanced courses are for nonnative speakers who:
can speak and write fluently but need more complex vocabulary and grammar;
make occasional grammar and vocabulary errors that do not interfere with comprehension;
can frequently, but not always, speak and write with appropriate tone and style.
You are welcome to attend the first class to consult the instructor about your English-language level, but space in the class is not guaranteed. If you have any questions, prior to enrollment, please contact the Education department at (510) 642-1171 or email questions to extension-education@berkeley.edu.
Contact the Humanities, Languages and Personal Development Department
extension-humanities@berkeley.edu | (510) 643-1110