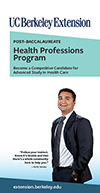 Get the science education you need for advanced study in the health sciences with the UC Berkeley Extension Post-Baccalaureate Health Professions Program. Prepare to apply to medical, dental, veterinary, pharmacy, advanced nursing, physical therapy, physician assistant and other health professions programs. Courses meeting the academic standards of UC Berkeley ensure that your education is of the highest quality. By successfully completing the Post-Baccalaureate Health Professions Program, you're ready to join others who have gained admission to a wide range of top health care programs. We have a rolling admissions policy, which means that we consider applications every month of the year; there is no state residency requirement for this program or for courses taken at UC Berkeley Extension. Therefore, there is no application deadline. However, it is advisable for applicants to submit all of their credentials at least two months prior to their intended date of matriculation.
Specifically, this program:
has the prerequisites and upper-division coursework needed for admission to a professional program in the health sciences
can meet the needs of both academic enhancers and career changers;
has the convenience of evening and weekend study, making it possible to continue working while you're enrolled;
offers in-depth personal advising, allowing you to tailor a course plan, identify the medical or health program that fits your needs, and prepare an application for further study;
offers priority enrollment for high-demand courses;
helps you gain access to leads for volunteer, internship and paid opportunities;
and can help you prepare an application to graduate and professional programs, including access to a composite letter of recommendation.
See Prerequisites for Admission, Curriculum Requirements and How to Register. Join our email list to stay informed about this program.
Courses
Required Courses

Courses listed as Not Available are not currently open for enrollment. Courses open for enrollment in April, July and December.

| Course Number | Course Title | Units / CEUs | Delivery Options | Status |
| --- | --- | --- | --- | --- |
| UNEX 1074 | Health Careers Seminar I | 0.4 | | Not Available |
| UNEX 1075 | Health Careers Seminar II | 1.5 | Classroom | Available |
Course availability is subject to change. Courses offered in both online and classroom environments are interchangeable; if both delivery options are available, you may choose either option.
To enroll, click on a course title above and choose a section. You may enroll in individual courses without registering for a certificate or program.
Prerequisites for Admission
College graduates who hold at least a baccalaureate degree are eligible to apply for the Post-Baccalaureate Health Professions Program, and a minimum GPA of 3.0 is required for consideration. GPA requirements may be updated as annual reviews of the programs are conducted. This program is not approved for international students who hold F-1 visas.
Curriculum Requirements
The curriculum comprises 2 required courses (Health Careers Seminar I and II) and a varied number of electives (depending on specific courses taken) for a total of 1.9 ceu and 24 semester units*. All credit courses must be taken for a grade, and students must maintain at least a cumulative 3.0 grade point average (GPA). Transfer credit is not accepted.
Candidates must pay a nonrefundable program registration fee. All coursework must be completed within three years of registering for the program. However, requirements may be updated based on new developments in the field of study; we recommend completing the curriculum in a timely fashion.
Credits earned in online sections are not applicable toward the Post-Baccalaureate Health Professions Program.
How to Register
We have a rolling admissions policy, which means that we consider applications every month of the year. There is no application deadline, but it is advisable to submit all of your materials at least two months prior to your intended date of matriculation.
To apply to the Post-Baccalaureate Health Professions Program:
Submit the online application, which requires uploading the following materials:

Personal Statement Essays form (PDF). Enter your information directly into the PDF, including any test scores (MCAT, PCAT, DAT, GRE, etc.) taken within the past three years; word counts are strictly enforced.
Current C.V. or résumé (PDF required)

Complete your student account profile if you are a new student.
Pay the nonrefundable application fee through your shopping cart.
To complete the application process, you must also submit the following materials by mail (see address information below):
An official, sealed transcript from an accredited undergraduate institution verifying that you earned a baccalaureate degree and maintained a grade point average (GPA) equal to or above 3.0.
Any additional transcripts (official and sealed) from all other undergraduate and graduate institutions attended. International transcripts must be professionally translated.
Three letters of recommendation (a minimum of one from an academic reference). Letters are expected to be confidential and should be sent directly from the references. Applicants may only submit letters if they are in sealed envelopes with the reference's signature across the seal. Opened letters will not be accepted from applicants.
Note: If you started your application before Jan. 7, 2014, you must also mail in your résumé and Personal Statement Essays form (PDF).
Send materials to:
Shoshana Katzman, Ph.D.
Program Director
Health Sciences
UC Berkeley Extension
1995 University Ave., Suite 110
Berkeley, CA 94704-7000
Certificate and Award Request
Once you have completed the program coursework, notify UC Berkeley Extension that you have completed the curriculum and request your Award of Completion. Send an email to extension-science@berkeley.edu. After your records have been reviewed, verified and approved, your Award of Completion will be sent to you in the mail. The review of your records is usually completed within six to eight weeks after you request the award.
Additional Information
You must be accepted into the program to take advantage of the Health Careers seminars. Completion of the 24 semester units of electives is required only for students who wish to receive the Award of Completion.
Students who have been accepted to the Post-Baccalaureate Health Professions Program receive priority enrollment for high-demand laboratory courses. Instructions for priority enrollment are emailed a month before the beginning of the fall and spring enrollment periods. Students who fail to meet the priority enrollment deadlines can enroll in courses when enrollment opens.
Advisory Board
Dena Bullard, M.H.S.
Academic Health Sciences Specialist, Health Sciences and Services
University of California
Office of the President
Joseph I. Castro, Ph.D., M.P.P.
Vice Chancellor, Student Academic Affairs
University of California, San Francisco
John Matsui, Ph.D.
Program Director, Biology Scholars Program
UC Berkeley
Ramu Nagappan, Ph.D.
Director, Humanities
UC Berkeley Extension
Cathryn L. Nation, M.D.
Associate Vice President, Health Science and Services
University of California
Office of the President
Henry Ralston, M.D.
Professor of Anatomy
University of California, San Francisco
John Swartzberg, M.D., Ph.D.
Clinical Professor, Joint Medical Program
UC Berkeley School of Public Health
Richard C. Van Sluyters, Ph.D., OD
Professor of Optometry and Vision Science
Associate Dean for Student Affairs and Head Graduate Adviser
UC Berkeley
Juhn Verano, M.S.
Pre-Health Professions Career Counselor
Stanford University