We know you're traveling far from home to participate in a unique visiting student experience. You'll be studying at a top university known for its rigorous academic standards. This means that while you're here, it's more important than ever to focus on your health and well-being. Here are some resources we offer to ensure that you are happy, stress-free, healthy and successful during your time in Berkeley.
Staying Healthy
Maintaining your health and well-being is an important part of your learning and program experience, so it's good news that Berkeley is ranked number 1 in this list of healthiest cities in the United States!
During your time here, you will have access to a variety of support and student services, including comprehensive medical insurance, Counseling and Psychological Services (CAPS), community-building activities and more.
Berkeley Global Student Health Insurance
Health insurance is mandatory if you are participating in any of our full-time study-abroad programs. We will enroll you into a comprehensive health insurance plan for the duration of your studies. You will receive an insurance identification card that you can use to fill prescriptions, visit the doctor and more.
Our current student health insurance provider is Anthem Blue Cross Life and Health Insurance Company. Read on for details and frequently asked questions.
Note: This information is specific to the 2021–2022 Anthem plan.
Visit the UC Berkeley Extension Relation page for more detailed plan documents, finding a provider, downloading an insurance card and more.
For up-to-date information about the COVID-19 vaccine, please refer to our FAQ page.
How long will I be covered under my student health insurance plan?
Coverage typically begins the Sunday before your program start date and ends one week after the end of the semester. Specific dates for each semester will be shared with you via email and at orientation. Before using your plan, you must first activate it.
To activate the plan, register on the Anthem Website. You will receive an email that lists the earliest date you can begin to register and access your account. When you register, provide your Extension ID number (beginning with an X) and your name as it appears on your passport, and update your local U.S. address. You will then be able to download your insurance card; print it and keep in your wallet. You will use this insurance card to fill prescriptions, visit the doctor and more.
You can also access your insurance ID card and other Anthem benefits information on the Sydney Health mobile app, which can be downloaded from the App Store or Google Play.
What does the plan cover?
It covers medical services (sickness, injuries, etc.), preventative care (vaccinations, physical exams, certain tests and screenings), medication, psychiatry and more. You are eligible for one routine eye exam; all other vision issues are only covered in case of a serious injury or accident. Dental procedures are only covered in case of a serious injury or accident. Find more detailed plan information here.
In addition, you are eligible to seek Counseling and Psychological Services (CAPS) at the University Health Center (Tang Center).
Anthem also provides translations of the health plan brochure that you can access if you prefer to read details about your coverage in your native language.
What is the cost of the Anthem insurance plan?
Health insurance plan costs are subject to change each academic year. Currently, Anthem plan costs for the 2021–2022 academic year are:
Fall/Spring Semester: $880 per semester
Summer Semester: $530 per semester
Dependents: Dependent coverage (spouse or child) is available at the same price as above.
Students on Optional Practical Training (OPT): You can extend your insurance coverage during your OPT on a semester basis at the same price listed above.
Request coverage or information by emailing extension-intl@berkeley.edu.
What medical facilities can I visit under the plan?
Below you will find the four main options for medical care. The option you choose will depend on your medical issue and the severity of the situation. You can find the nearest facility to you by using the search tool in your health insurance online account.
Emergency Room
In the event of a life-threatening emergency, go directly to the nearest Emergency Room (ER) or call 9-1-1.
Only visit the ER in case of emergency; if you go for a non-emergency reason, you will end up waiting for hours and will need to pay a large sum out of pocket.
Urgent Care
Get immediate medical attention for severe, non-life-threatening medical conditions. Same-day appointments are generally available.
Primary Care/Doctor/Specialist
You can make an appointment with an in-network doctor or specialist by calling his/her office. Use this option if you have a pre-existing or chronic health condition and need regular contact with a doctor. You will also need to visit a doctor in order to get a refill of your prescription medicine. You can find a doctor by using the search tool in your health insurance online account.
Pharmacy
All major pharmacy chains, such as CVS or Walgreens, have at least one pharmacist on-site who can refill prescriptions and administer certain vaccinations and flu shots. You can also find over-the-counter medicine, other medical products like bandages, disinfectants, and miscellaneous food and household items.
Pharmacists cannot prescribe medicine in the U.S. Instead, go to a hospital, urgent care center or a doctor and get a prescription from them.
Can I visit the UC Berkeley Health Clinic (Tang Center)?
Does the plan cover COVID-19-related expenses?
Does the plan cover me outside of the San Francisco Bay Area?
Yes. Your Anthem plan covers you anywhere in the U.S. Please use the "Find a Doctor" search feature if you need medical help while outside of the Bay Area.
Note: Outside of California, Anthem is called "Blue Cross/Blue Shield."
Does the plan cover me if I travel outside of the U.S.?
Yes, but only for emergencies and not when you are in your home country. Travel insurance is included in your Anthem Plan and is offered through GeoBlue Global.
More information can be found in the Anthem Plan brochure.
GeoBlue Global Health and Safety contact information 24/7 help center:
U.S.: +1-833-511-4763
Note: This does not replace your health insurance. If you have specific health insurance questions, please contact Anthem directly.
What should I prepare before arriving in Berkeley?
Be sure to refill your medicine and bring a copy of your prescription, translated into English, in case you need more while you are here. You can read more about bringing medicine into the U.S. here.
Bring an extra pair of eyeglasses and any other eyewear you might need for your time in the U.S.
Check with your dentist before leaving for the U.S. as you will not have dental coverage here.
If you are planning to arrive early, and will need insurance coverage before your program start date, please contact our office at extension-intl@berkeley.edu.
Do I need to get any vaccinations before coming to Berkeley?
Note: You may be required to show and upload proof of certain vaccinations. Detailed instructions on how and where to share this proof will be sent to you closer to the start of the semester.
COVID-19 Vaccine Requirement
The University of California requires students who are accessing campus facilities at any UC location to be immunized against SARS-CoV-2, the virus that causes COVID-19. The policy details were published prior to the Fall 2021 semester. This requirement applies to all students planning to attend an in-person Spring 2022 program.
Those with approved exemptions or accommodations may access campus with the requirement that they remain masked in all public settings and comply with the campus testing plan, which at a minimum will be weekly.
If you are not vaccinated and are not approved for an exception or medical exemption, you will not be allowed to access campus facilities.
Other Vaccinations
Berkeley Global students are required to have the following vaccinations:
Getting immunizations in your country before you come to Berkeley is best, but you can also arrange a medical appointment for these after you arrive here. Your student medical insurance covers the cost of the above immunizations.
Other immunizations that we strongly recommend are:
Hepatitis A
Hepatitis B
Tuberculosis BCG Vaccine
Polio
Meningococcal B
Pneumococcal (PSV13 and/or PPSV23)
What kind of vaccinations can I receive once I'm in Berkeley?
You can receive the following vaccinations at any CVS or Walgreens pharmacy: flu shots, the HPV series, Hepatitis, Meningitis, MMR and Chickenpox. Other vaccinations can be administered by a general physician.
An appointment may be necessary to receive a vaccination at a pharmacy. You will need to present your health insurance ID card.
If you would like to arrange a physical exam before taking any immunization, you can book an appointment with a general-practice physician.
Vaccinations and physical exams are covered by your student health insurance plan's preventive-care benefit. Bring your insurance card to your medical visit.
Can I waive the school-sponsored insurance plan and bring my own?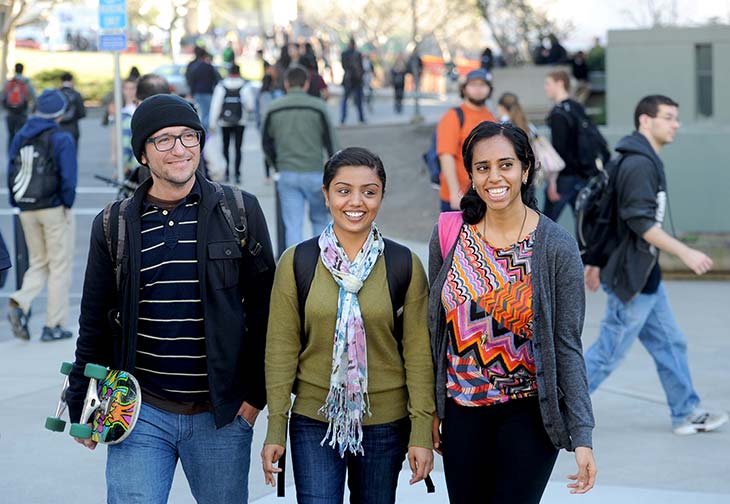 Staying Safe
Safety is every student's responsibility and we provide numerous resources—both on- and off-campus—to help you stay safe. Safety is also discussed in your student orientation: We'll go over things like the 100 emergency telephones located on and around campus and the numerous safety services available to you 24 hours a day, every day of the week.
Police
Emergency Services 911: You may dial 9-1-1 from any phone to reach emergency services. If dialed from a cell phone, 9-1-1 reaches the California Highway Patrol, a state agency that principally patrols the freeways. If dialed from a landline, 9-1-1 reaches an emergency center that automatically identifies your precise location, and can dispatch police, fire or ambulance.
We suggest adding the following phone numbers into your phone for quick access.
University of California Berkeley Police Department phone number: (510) 642-3333
Berkeley City Police Department phone number: (510) 981-5911
Fire Department
Berkeley Fire Department
2100 Martin Luther King Jr. Way
Berkeley, CA 94704
Prepare for an Emergency
Get familiar with simple emergency procedures by visiting the website of the UCB Emergency Management Office.
Download the app for real-time updates on your phone or mobile device.
If you have difficulty speaking English during times of stress, write down in advance the information you will need to give doctors, police officers, or other emergency workers.
Get to know some of your neighbors. People are more likely to help someone they know than a stranger. People are also more likely to watch over your home in your absence if they know you.
California experiences earthquakes but most are very small. Still, you should be prepared by having food and water, plus a flashlight on hand.