Business analysts lead efforts to define needs and design solutions that deliver value to stakeholder organizations. The complex role utilizes business strategy, operational processes and procedures, requirements management, and subject matter expertise to lead organizations through complex changes. They manage stakeholder expectations, focus on requirements and solutions, measure performance, and, when necessary, suggest and implement corrective actions.
In order to master the skills necessary to qualify for this in-demand position, you'll take courses that focus on key knowledge areas so that you are well-equipped to apply a wide-range of business analysis techniques to any future endeavor. For example, according to Glassdoor and market research, the starting annual salary for data analysts range from $70,000 to $90,000. Business analysts in IT roles or strategic initiatives will see up to a 19-percent job growth in the next 10 years. You can also move into roles such as product management, consulting, senior-level IT or business management, solution or enterprise architects, and business process ownership. Salaries in those roles average nationwide between $120,000 to $175,000.
In addition, you'll be well-prepared to take the International Institute of Business Analysis' Certified Business Analysis Professional (CBAP®) exam or the Project Management Institute's Professional in Business Analysis (PMI-PBA©) certification.
---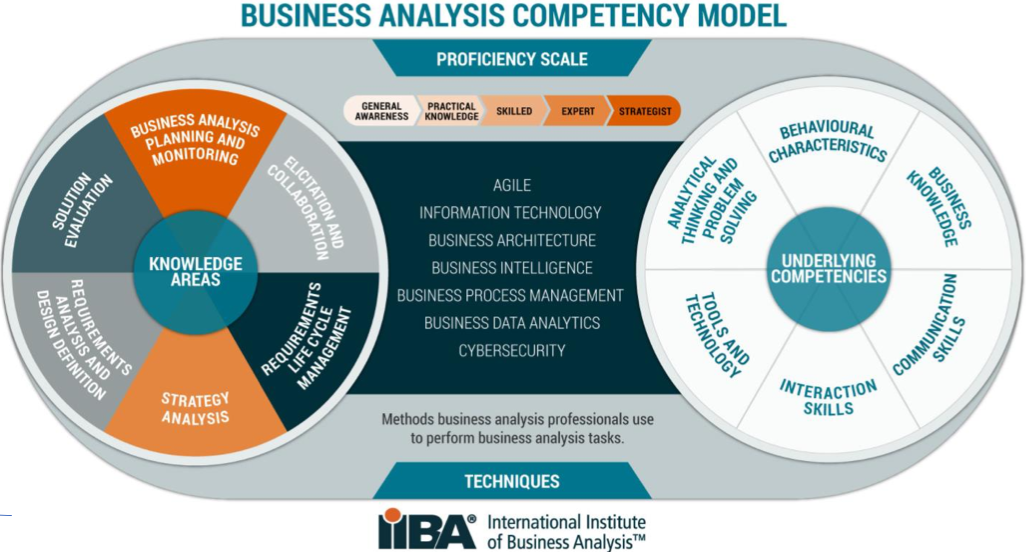 Understanding the Business Analysis Competency Model
This Business Analysis Competency Model® identifies the foundational skills, tasks, techniques and personal characteristics necessary to perform business analysis, and the five levels of proficiency in the profession. It also includes the perspectives—included in the BABOK® Guide—used within business analysis work that provides focus to tasks and techniques specific to the context of the initiative.
This guide supports the four levels of IIBA's Multi-Level Competency-Based Certification program by highlighting the key competency components associated with each business analysis task. This allows you—whether you're new to business analysis or advancing in your position—to identify the areas of focus to develop skills in order to meet the needs of organizations and your own career growth.
Image courtesy: International Institute of Business Analysis™ (IIBA®)
---