Office Closures
We are closed during the following:
Labor Day
Veterans Day
Thanksgiving (Last Thursday and Friday in November)
Winter Holidays (Dec. 23, 2021–Jan. 2, 2022)
Martin Luther King Jr. Day
Presidents' Day
Cesar Chavez Day (Last Friday in March)
Memorial Day
Juneteenth Freedom Day (Observed June 28, 2021)
Fourth of July (Observed July 5, 2021)
Library Use
After the start of your Extension course, you can purchase a $25 6-month borrowing card by presenting proof of current registration along with a government-issued photo ID at the Privileges Desk, Doe Library, Floor 1. You also have access to licensed electronic resources, such as journals and databases.
Renting Our Classrooms
Extension classrooms are available for rent for meetings and training sessions on a space-available basis weekdays, 8:30 am–9 pm (Pacific Time). Three weeks' advance notice is required and the renter must provide a certificate of insurance. Please email extension-rentals@berkeley.edu for more information.
Questions?
Please email customer service comments and feedback to extension@berkeley.edu.
Education Tax Credit
To determine eligibility for Taxpayer Relief Act of 1997, contact the Internal Revenue Service (IRS), a tax consultant or an accountant. The IRS Form 1098-T Tuition Statement is used to assist the taxpayer in determining eligibility for an educational tax credit and/or deduction. The University of California has contracted with the TAB Service Company (TSC) to electronically produce your IRS Form 1098-T Tuition Statement and make it available for you to download it offline. UC Berkeley Extension issues you a Form 1098-T if you had at least one reportable transaction (such as a tuition payment or a program application/registration fee) during the calendar year.
The IRS requires all educational institutions to request students to provide a Social Security Number (SSN) or an Individual Taxpayer Identification Number (ITIN). This must be completed before year end:
Log in to your student account to review or update this information.
Go to "My Profile".
Under "Personal Information Section" enter your SSN.
Press "Save" at the bottom of the screen.
If you had a reportable transaction during the calendar year and your email is up to date on your student account, you will receive an email notification from UC Berkeley Extension by Jan. 31 every year when your Form 1098-T is available online. Be sure your spam filter does not capture email from UC Berkeley Extension email extension@berkeley.edu. To access your 1098-T online:
Go to www.tsc1098t.com, or call (888) 220-2540.
If you do not receive a Form 1098-T notification by email by Jan. 31, log in to www.tsc1098t.com and enter the following information to login:

Enter the Site ID: 5 digit school code assigned by Tab Service = 11554
User Name: Student ID that starts with X
Password: Last 4 digits of your SSN
If you are an international student without an SSN or have otherwise not provided your SSN to UC Berkeley Extension, the temporary password will be 0000. Submitting this temporary password in the login screen will initiate a password reset process with your email on file.
For security reasons, you will then be prompted to change your password. Enter your old password (last four digits of your SSN) and then enter a new password. The new password must be 7 characters and contain at least one numeric character, one upper case letter and one special character.
Once you login to the website, you can access and print your 1098-T form by selecting "View/Print My 1098-T" from the menu on the left side of the screen.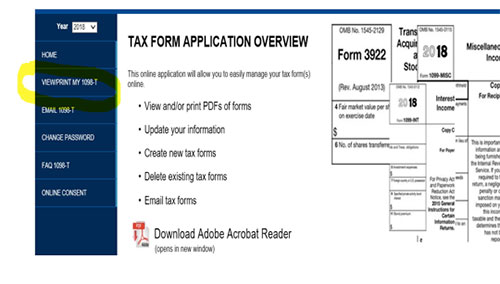 If you need assistance, please call (888) 220-2540.
For additional information about the Taxpayer Relief Act of 1997, Education Tax Credits and IRS Form 1098-T, please refer to the UC Berkeley Student Billing Services website or the IRS website.