More often than not, a product's success is dependent on a smart and well-executed Go-to-Market Strategy (GTM). Take a deep dive into the logistics of a GTM Strategy Roadmap to plan, test and successfully execute complex product launches.
Augment your expertise and experience by applying cutting-edge tools and methods to be more creative, more precise, more convincing and more impactful at your organization.
In each session, you'll have ample opportunities to apply, share and discuss real business cases, test new ideas with other experts, and ready yourself to move to the next level.
Your Instructor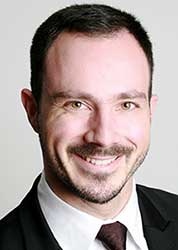 Frederick Wehrle, Associate Dean for Academic Affairs at UC Berkeley Extension
Frederick T. Wehrle is a researcher specializing in innate human behavior and an expert in academic innovation and design. At UC Berkeley Extension, he is developing fully integrated, transdisciplinary study programs that allow students and lifelong learners to acquire the specific skill set they need to succeed in their careers in the upcoming 4th Industrial Revolution. With his team, Frederick brings together world-leading researchers from UC Berkeley and industry experts from Silicon Valley who work and teach at the forefront of academic innovation.
Previously, Frederick founded the Center for Global Engagement of Planeta Education and Universities France, directed accreditation and international relations at Groupe EDC, and served as Academic Director at Groupe IGS. He founded the Eye-Tracking Lab of ICD International Business School and has lectured at UC Berkeley, Grupo Planeta, Groupe EDC, Groupe IGS, University of Paris 1, Toulouse Business School, Amsterdam University of Applied Sciences and Groupe IAM.
---
Normally priced at $1,400, you only pay $910 with the 35% discount!
Step 1: Add the course to your shopping cart.
Step 2: Once you are ready to check out, click on "Apply a discount" and choose "Black Friday 2021" from the drop-down to save 35%.
Course Outline
Expand or collapse section
Course Objectives
Design a structured and impactful GTM Strategy Roadmap.
Utilize the latest tools and methods to assess markets, products and consumers.
Evaluate marketing channels and create an effective marketing action plan.
What You'll Learn
Go-to-market versus traditional sales
Go-to-market strategy roadmap
Corporate and product strategy and market
Product features and benefits
Unique value proposition or Need-Gap Solution
Effective product positioning
Customer persona profiles and storyboards
5W+H framework
Intended Audience
The workshop is designed for marketing, sales and product management professionals who wish to enhance their skills in Go-to-Market strategy and execution.