The Certificate Program in Personal Financial Planning at UC Berkeley Extension offers two evening events sponsored by the program's advisory board: Career Planning Night and Awards Dinner.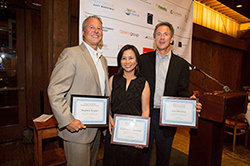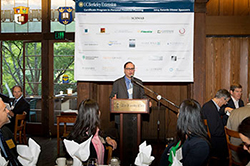 Pictured, from left: Stephen Kepler, recipient of the Newport Advisory Outstanding Student Award, and Clarissa Dimacali and Ara Minasian, recipients of the Academic Excellence Scholarships. Pictured far-right: Instructor Peter Philip, recipient of the Tim Kochis Award for Teaching Excellence, addresses the Awards Dinner attendees.
Presented by the Professional Sequence in Personal Financial Planning Advisory Board, the Awards Dinner takes place each spring at the Faculty Club on the UC Berkeley campus.
Each year, the dinner recognizes the achievements of individuals involved in the certificate. The Newport Advisory Outstanding Student Award honors academic performance, leadership and participation outside the classroom. The Tim Kochis Award for Teaching Excellence recognizes an outstanding instructor. And the Golden Bear Award acknowledges the dedication and commitment of one individual—student or staff member—who has contributed to the growth of the Personal Financial Planning certificate. Student scholarships are also awarded.