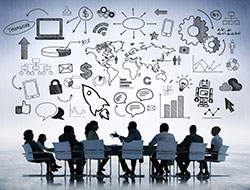 UC Berkeley's CorpEd Advisory Board brings professionals together to share ideas and best practices. The Advisory Board convenes quarterly through in-person meetings or webinars.
The in-person meetings—hosted at firms around the San Francisco Bay Area—present an excellent opportunity for senior leaders to meet and share insights about trends and innovative solutions. Each event features a moderated panel discussion with leaders from a range of industries.
There is no cost to participate, but attendance is by invitation only. Contact Robert David for more information.
HR/LAB: January 17, 2017, at UC Berkeley
Topic:
HR & L&D Internal Communication Strategies
Moderator:
Panelists:
Chris Henry, Corporate VP of Talent and Change Management @ Sutter Health
Linda Moss, VP Global Enablement @ Palo Alto Networks
Lesley Hoare, VP Global Talent Development @ VMware
Marguerite Kunze, VP Talent Management & Org Dev; HRBP Product & Strategy @ Plantronics
Corinna Snyder, Director, Learning and Development at PwC
---
HR/LAB Meeting: September 09, 2016, at UC Berkeley
Topic:
Professor Andrew Isaacs teaching "Time management as a core skill for Leaders"
---
April 19, 2016, at ADP
Topic:
Building a Productive Learning Culture
Moderator: Carrie Beckstrom, VP Learning & Performance @ ADP
Panelists:
Scott Morgan, Dir. L&D @ LinkedIn
Matt Morgan, VP People Practices @ Pandora
Kate Mason, Director, People Readiness @ Federal Reserve Bank of SF
---
October 20, 2015, at UC Berkeley Extension's San Francisco Campus
Topic:
Learn about the latest research from UC Berkeley faculty and lecturers in HR and L&OD
Moderator: Robert David, UC Berkeley Extension
Panelists:
Emiliana R. Simon-Thomas, Ph.D. (Topic: The Science of Happiness vs. Sustained Happiness)
Professor Sameer Srivastava (Topic: Measuring Culture)
Professor Ben Hermalin (Topic: The Strategic Leader)
Mark Coopersmith (Topic: Learning From Failure)
Below, find a video segment from Greater Good Science Center science director Emiliana Simon-Thomas, who talks about the science behind "sustained happiness."
Visit the Corporate and Professional Programs YouTube page.
---
June 24, 2015, at Kaiser Permanente (Oakland)
Topic
HR+L&D Analytics and Continuous Learning
Moderator: Bob Sachs, VP National Learning & Development, Kaiser Permanente
Panelists:
Blaine Ames, AAA, Workforce Planning & Analytics director
Craig Ramsay, Symantec, Organizational Insights & People Analytics director Cherie Woodbury, Robert Half International, VP Enterprise Learning & Staff Development
Read key takeaways from this meeting. (PDF)
---
Feb. 24 2015, at Charles Schwab (San Francisco)
Topic
Discussing the McKinsey & Company article "Decoding Leadership: What Really Matters," which indentifies the four top behavior traits found with high-quality leadership teams:
Supportive
Operating toward strong results
Ability to see different perspectives
Effectively solves problem
Moderator: Dawn Kimball, Charles Schwab VP Education & Learning
Panelists:
Antonia Galindo, Pandora VP Learning & Development
Keami Lewis, Facebook Leadership Development Partner
Lisa Zuegel, Agilent Technologies Leadership Development Program Manager
Read key takeaways from this meeting. (PDF)
---
Nov. 18, 2014, at LinkedIn (Sunnyvale, Calif.)
Topics
Developing leaders in a distributed workplace.
Ramping up productivity in new and early-career employees.
Assessing an organization's future readiness and agility.
Doing business globally and the impact on HR and L&D.
Being inclusive and the impact we have on the communities in which we operate.
Moderator: Pat Wadors, LinkedIn VP of Global Talent Organization

Panelists:

Deary Duffie, Genentech Senior Director of Learning and Organization Development

Dianne Mills, Walmart Global e-Commerce SVP of Human Resources

Lisa Paul, Oclaro EVP of Human Resources

Kelly Porter, Commune Hotels VP of Learning and Employee Brand

Jennifer Saavedra, Visa VP of Learning and Development
---
Aug. 12, 2014, at Trulia (San Francisco)
Topics
Positioning HR as a business partner and staying relevant.
Scaling HR and L&D during rapid growth and collecting feedback.
Leveraging social media in HR and L&D programs.
Bridging the gap between hiring and onboarding.
Building learning into the organization.
Moderator: Elizabeth Brown, Trulia VP of HR

Panelists:

Corey Barker, Medallia Director of Growth and Development

Emily Couey, Eventbrite Head of People

Greg Pryor, Workday VP of Leadership and Organization Effectiveness

Beth Steinberg, BrightRoll SVP of People