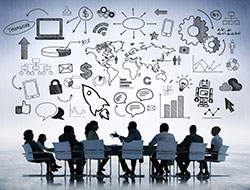 UC Berkeley Extension's Learning Advisory Board (LAB) brings together human resources and learning and development (L&D) professionals to share ideas and best practices. The LAB convenes quarterly through in-person meetings or webinars.
The in-person meetings—hosted at firms around the San Francisco Bay Area—present an excellent opportunity for senior HR and L&D leaders to meet and share insights about trends and innovative solutions. Each event features a moderated panel discussion with HR and L&D leaders from a range of industries.
There is no cost to participate, but attendance is by invitation only and limited to HR and L&D professionals. Contact Robert David for more information.
HR/LAB: November 17, 2017, at EllieMae
Topic: Transforming Performance Management
Moderator: Rick Jensen, SVP Chief Talent Officer at Intuit
Panelists:
Levent Arabaci, EVP HR at Hitachi
Susan Page, Global Head of L&D at Jazz Pharma
Jonathan Levy, Director of Training and Organizational Development at Autodesk
Rachel Kleban, Performance Management Lead at Airbnb
Gita Asuti, Director/Sr. HRBP at EllieMae
Top Takeaways
Motivation Over Management

Organizations can yield tremendous results by shifting their performance management focus toward performance motivation. This proactive rather than reactive approach puts employees in the driver's seat and lets them define their own career paths in any trajectory that suits their personal strengths and interests.

Real-Time Feedback With a Little Help From Technology

The need for real-time feedback reflects a monumental cultural shift in the way people interact with information and data. In a world where your employees can access impressions on their social posts at any moment, it's no wonder waiting a year to find out how they're doing at work sounds torturous.
HR/LAB: November 17, 2017, Online
9am–10am PST
Topic: Online Presentation and Q&A with Jacob Morgan
Moderator: Robert David
Panelist: Jacob Morgan
HR is at a pivotal point of transformation: it's moving away from compliance and increasing engagement scores to focusing on designing employee experiences and empowering the organization. "Employee experience" is a relatively new concept, but what exactly does it mean and what do HR leaders need to know about it? In this presentation, Jacob will share some of the latest research from his new book: "The Employee Experience Advantage: How to Win the War for Talent by Giving Employees the Workspaces they Want, the Tools they Need, and a Culture They Can Celebrate."
According to Jacob, every employee experience at every company around the world is a combination of three environments that organizations can control: culture, technology, and physical space. Jacob analyzed 252 organizations around the world looking at these three environments to understand what the world's top companies are doing and perhaps more importantly, what the ROI of investing in employee experience is.
About Jacob Morgan:
Jacob Morgan is a three-time best-selling author, keynote speaker, and futurist. His latest book is Employee Experience Advantage: How to Win the War on Talent by Giving Employees the Workspaces they Want, the Tools they Need and a Culture They Can Celebrate (Wiley, March 2017) which is based on an analysis of over 250 global organizations. Jacob's work has been endorsed by the CEOs of Cisco, Whirlpool, T-Mobile, Best Buy, SAP, Nestle, KPMG, Schneider Electric and many others. Learn more and get access to resources by visiting TheFutureOrganization.com.
Jacob is also the founder of "The Future If," a global community of business leaders, authors, and futurists who explore what our future could look like if certain technologies, ideas, approaches and trends actually happened. We look at everything from AI and automation to leadership and management practices to augmented and virtual reality, the 4th industrial revolution, and everything in between. Visit TheFutureIf.com to learn more.
---
HR/LAB: January 17, 2017, at UC Berkeley
Topic:
HR & L&D Internal Communication Strategies
Moderator:
Panelists:
Chris Henry, Corporate VP of Talent and Change Management @ Sutter Health
Linda Moss, VP Global Enablement @ Palo Alto Networks
Lesley Hoare, VP Global Talent Development @ VMware
Marguerite Kunze, VP Talent Management & Org Dev; HRBP Product & Strategy @ Plantronics
Corinna Snyder, Director, Learning and Development at PwC
---
HR/LAB Meeting: September 09, 2016, at UC Berkeley
Topic:
Professor Andrew Isaacs teaching "Time management as a core skill for Leaders"
---
April 19, 2016, at ADP
Topic:
Building a Productive Learning Culture
Moderator: Carrie Beckstrom, VP Learning & Performance @ ADP
Panelists:
Scott Morgan, Dir. L&D @ LinkedIn
Matt Morgan, VP People Practices @ Pandora
Kate Mason, Director, People Readiness @ Federal Reserve Bank of SF
---
October 20, 2015, at UC Berkeley Extension's San Francisco Campus
Topic:
Learn about the latest research from UC Berkeley faculty and lecturers in HR and L&OD
Moderator: Robert David, UC Berkeley Extension
Panelists:
Emiliana R. Simon-Thomas, Ph.D. (Topic: The Science of Happiness vs. Sustained Happiness)
Professor Sameer Srivastava (Topic: Measuring Culture)
Professor Ben Hermalin (Topic: The Strategic Leader)
Mark Coopersmith (Topic: Learning From Failure)
Below, find a video segment from Greater Good Science Center science director Emiliana Simon-Thomas, who talks about the science behind "sustained happiness."
Visit the Corporate and Professional Programs YouTube page.
---
June 24, 2015, at Kaiser Permanente (Oakland)
Topic:

HR+L&D Analytics and Continuous Learning

Moderator: Bob Sachs, VP National Learning & Development, Kaiser Permanente

Panelists:
Blaine Ames, AAA, Workforce Planning & Analytics director
Craig Ramsay, Symantec, Organizational Insights & People Analytics director Cherie Woodbury, Robert Half International, VP Enterprise Learning & Staff Development

Read key takeaways from this meeting. (PDF)
---
Feb. 24 2015, at Charles Schwab (San Francisco)
Topic:
Discussing the McKinsey & Company article "Decoding Leadership: What Really Matters," which indentifies the four top behavior traits found with high-quality leadership teams:
Supportive
Operating toward strong results
Ability to see different perspectives
Effectively solves problem
Moderator: Dawn Kimball, Charles Schwab VP Education & Learning
Panelists:
Antonia Galindo, Pandora VP Learning & Development
Keami Lewis, Facebook Leadership Development Partner
Lisa Zuegel, Agilent Technologies Leadership Development Program Manager
Read key takeaways from this meeting. (PDF)
---
Nov. 18, 2014, at LinkedIn (Sunnyvale, Calif.)
Topics:
Developing leaders in a distributed workplace.
Ramping up productivity in new and early-career employees.
Assessing an organization's future readiness and agility.
Doing business globally and the impact on HR and L&D.
Being inclusive and the impact we have on the communities in which we operate.
Moderator: Pat Wadors, LinkedIn VP of Global Talent Organization

Panelists:

Deary Duffie, Genentech Senior Director of Learning and Organization Development

Dianne Mills, Walmart Global e-Commerce SVP of Human Resources

Lisa Paul, Oclaro EVP of Human Resources

Kelly Porter, Commune Hotels VP of Learning and Employee Brand

Jennifer Saavedra, Visa VP of Learning and Development
---
Aug. 12, 2014, at Trulia (San Francisco)
Topics:
Positioning HR as a business partner and staying relevant.
Scaling HR and L&D during rapid growth and collecting feedback.
Leveraging social media in HR and L&D programs.
Bridging the gap between hiring and onboarding.
Building learning into the organization.
Moderator: Elizabeth Brown, Trulia VP of HR

Panelists:

Corey Barker, Medallia Director of Growth and Development

Emily Couey, Eventbrite Head of People

Greg Pryor, Workday VP of Leadership and Organization Effectiveness

Beth Steinberg, BrightRoll SVP of People