Conceptualize and design a residential project. Under direction, analyze spaces and refine layouts to satisfy functional requirements. Become familiar with residential lines of furnishings and finishings. Develop your color palette, and select suitable materials to produce a workable and aesthetic environment for everyday living.
Example Coursework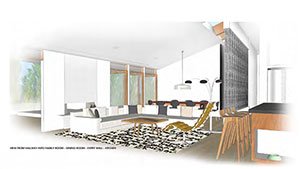 Student Sara Manning designed this room while taking Design Studio II.
View the Interior Design and Interior Architecture Flickr gallery.
Sections
Fall enrollment opens on June 20!